FAQ's - Swivel Rotating Mat
Q: What is the warranty Swivel?
---
The CutterPillar Swivel is warrantied against manufacturing defects for 90 days. If you discover a manufacturing defect within the first 90 days, please contact customer service. We will repair or replace your CutterPillar with an equal model at our discretion*. After 90 days, we will help you troubleshoot your issue. Please contact customer service. For user-caused issues, please contact customer service to discuss your options. (*Note: exchanges for a newer model will not be allowed.) support@cutterpillar.com
---
Q: How much does the Swivel weigh?
---
A: The Swivel weighs 2.6 lbs out of the package.
---
Q: Is the Swivel available for purchase outside the US?
---
A: Yes! Well, it depends on where you live. We have a warehouse in Canada, a retailer in the UK, and one in the EU. Prices may vary. If you are interested in ordering outside the US, please contact customer service: support@cutterpillar.com. (If you are interested in carrying the CutterPillar in a different country, or if you'd like to see it carried at your favorite local store, you or your local store can contact us for purchasing information at sales@cutterpillar.com) New countries are being added frequently, so please ask!
---
Q: Do you ship internationally?
---
A: Yes. For countries outside the US, we do ship internationally, however, duties levied by the various governments, as well as brokerage fees levied by the carrier, will apply and are the responsibility of the buyer. They are usually required upon delivery. Please contact us at support@cutterpillar.com to place an order.
---
Q: How long will it take to get my CutterPillar Swivel?
---
A: Handling time is same day or next day. Your CutterPillar will be shipped UPS ground, which takes 2-5 days in the continental U.S., depending on how far away from the shipping center you live. For international shipping possibilities, please call or email our shipping partner Simple Products: 1-866-553-8886 or orders@simpleproductscorp.com.
---
Q: Can I contact someone if I have additional questions about the Swivel ?
---
A: Yes! Please contact our customer service at support@cutterpillar.com for general CutterPillar questions, or performance concerns, or order questions and someone will respond shortly.
---
Q: How do I replace the the PVC cutting mat?
---
Go to the parts page: https://www.cutterpillar.com/parts
---
Q: Why does the Swivel include a rubber foot?
---
Attach the included rubber foot to stick on the underside-center of your light-board. This self-adhesive foot assures that if you use the Swivel on top of a light-board, the board will be completely flat. Remove the backing and firmly press it to the bottom-center of your board. The Swivel works best on a very flat surface. If the Swivel isn't rotating smoothly, check to make sure the surface is completely flat. Extra feet are available from www.cutterpillar.com/parts
---
Q: Do I need the Glow Light board to use the Swivel?
---
Absolutely not. The Swivel is a stand-alone product that has features that make it valuble on its own; for cutting shapes, paeper-piecing, etc. As a bonus the Swivel was made translucent to work on any light-board.
---
Q: Why is my Swivel not spinning?
---
The Swivel is designed to work on a flat surface. A concave or uneven surface is not ideal. Move the Swivel to a flatter surface to enjoy unfettered motion.
---
Q: The Swivel is making a grinding noise ?
---
The Swivel base turns with steel ball-bearings on plastic. This bearing base may rarely need lubrication. A few drops of light cooking oil added to the tabs that hold the base on; it will help it run smoothly for months. Only add lubrication if you notice the base turning roughly or making a grinding noise.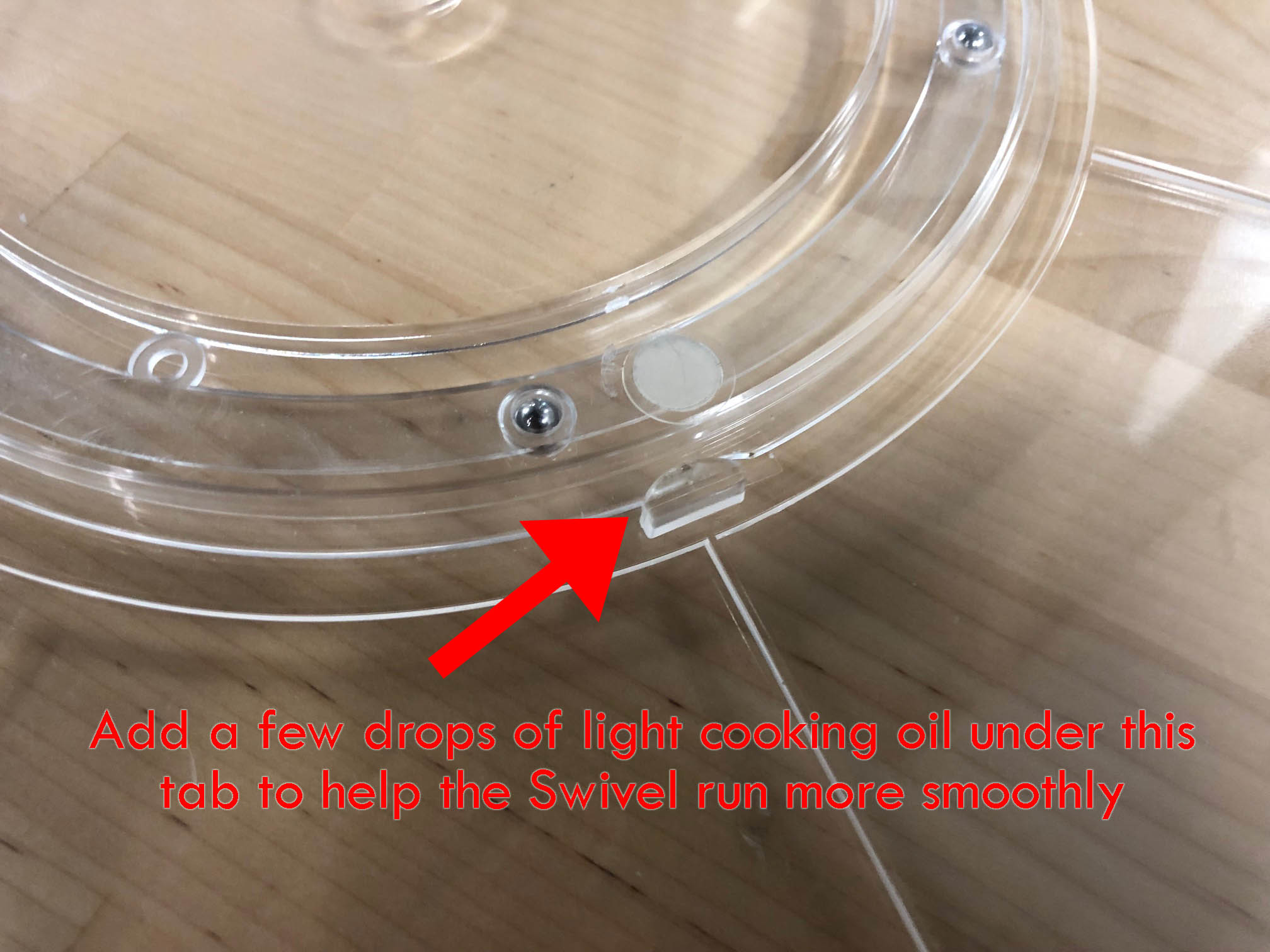 ---
Q: Can I cut on both sides of the PVC mat?
---
Yes. Both sides are made for cutting. When not using the printed grid for reference, you can cut on the opposite side. Avoid cutting wtih any rotray-bladed tool at a 45 degree angle. This creates marks on the mat that will affect its translucency over time. Most standard 90 degree cuts will not affect this.
---
---
Thank you for your interest in the CutterPillar Products. We know you will love them!
FREQUENTLY ASKED QUESTIONS: ©CutterPillar LLC. 2012 All rights resevred